63

Issue 63. May/June 2008
The Plague of Dovesby Louise Erdrich
Fortunate Son by Walter Mosley
Blood on the Saddle and A Pretty Face by Rafael Reig
Index of Book Reviews Issues 50+
Index of Book Reviews Issues 1-50
The Plague of Doves
by Louise Erdrich
HarperCollins, US, April 2008
Multi-generational, multi-layered history of familiar Erdrich territory: the Indians, whites, and mostly mixed bloods of North Dakota, this time in a town called Pluto, situated just next to the Ojibwe Indian reservation. It is structurally reminiscent of Love Medicine and others—with each section functioning as a story in itself—this time with a murdered family serving as the book's linking thread.
The novel begins with one paragraph telling of a murderer who just slaughtered a family, which we learn later happened in 1911. From here on, in typical Erdrich style, we have sections told from multiple points of view, mainly in the 60s and 70s but with many flashes back in time. Our first and principal narrator is Evelina, who is the young female of mixed blood speaking in the familiar voice which the reader, rightly or wrongly, has come to associate with the author. She begins by telling us that in the year 1876, her great-uncle, one of the first Catholic priests of aboriginal blood, along with the local Norwegian settlers, fought hard against a plague of doves. His younger brother, Seraph Milk, better known as "Mooshum," was to become Evelina's grandfather and live to be 100—and Moonshum loves to tell a story.
One day, when their mother is not around, Moonshum tells Evelina and her brother Joseph the story of the family that was murdered. According to Mooshum, who was young at the time, he and three other Indians—Asiginak, Cuthbert Peace, and Holy Track (whose back stories we get)—were out selling baskets when they stumbled upon a farmhouse where all the inhabitants had been murdered except a little baby. They want to rescue the baby and call the police, but they know that, being Indians (and the family being white), they would be accused of the heinous crime. And so sets the scene for a tale that includes some "rough justice."
The tie-in to the current day, and what prompted this story, is Evelina's Catholic teacher, Sister Mary Anita Buckendorf, on whom Evelina has a terrible crush, even if the Sister is ugly and referred to as "Sister Godzilla." When Mooshum heard the name Buckendorf, he remembers her older relative, Emil—part of a lynch mob out to get the Indians—and pours out the story, though the true murderer remains elusive.
Another narrator is Judge Antone Bazil Coutts, an Indian who gives us a long back-story about a group of locals, including his grandfather Joseph (whose journal the Judge is reading), who went west around the turn of the last century on a town-site expedition—a good, solid story, if not the most riveting, reminiscent of Jack London in its power to evoke the harshness of the elements which the men are pitted against; i.e., extreme cold, lack food and shelter, and disruption within the party.
The Judge also gives us the more contemporary story of John Wildstrand who is married to the banker Neve Harp, but carrying on an affair with the woman he loves, the Indian Maggie Peace, the sister of Billy Peace (relatives of the Peace family—one of whom had been among the four who stumbled upon the murdered family back in 1911; the others: the guides on the town-site expedition). Maggie gets pregnant, needs money, and John arranges for Billy to kidnap his wife Neve and ask for ransom, which he knows the bank will put up. Eventually, then, according to plan, Neve is to be released and the money will be turned over to Maggie. What follows is . . . not what was predicted.
Later Judge Coutts will give us other stories, including one about Mooshum's brother Shamengawa, who got his famous fiddle stolen by Corwin Peace, the youngest of the Peace's, who is Evelina's age and her third cousin. He is also the "bad boy" who Evelina once had a terrible crush on in school (Evelina being prone to crushes) . . . and who will later appear in her life with some nasty LSD.
But the most striking narrator of all is Marn Wolde; here we get one of the most utterly fascinating stories in the book. It is the story of what happened to Billy Peace (Corwin's uncle). After the kidnapping venture, he joined the army, went to Korea, and returned a strange man, a bizarre kind of cult preacher, who practiced his own brand of fiery religion. He took up with the very young Marn Wolde, an oddly pretty pale girl (I pictured a young Sissy Spacek) who longed for escape from her family and ran off with the charismatic Billy, giving him two kids and following and helping him develop his ever-growing cult. Billy begins thin and handsome—a kind of mixed blood young Elvis type—and preaches like no one has ever heard (with funny passages like the one on the evil of credit cards). He gathers a flock, known as The Kindred, who live in vans, under trees, in the open, in sheds—wherever they can. Marn's story is gripping, and builds to a powerful climax.
Our last section is by C—Doctor Cordelia Lochren—Judge Coutt's secret lover. She and Neve Harp are about the only ones left in Pluto as the old ones have died and the young ones moved on. Cordelia has taken over from Neve as the town historian, and it is from Cordelia that we get the answer to who murdered the family, the story which began the book. And some further explanations as well.
The narrative is typically Erdrich in that it wanders all over the place, with stories galore, and stories within stories, all told from various points in time. But it's not without a center (Evelina) and has the linking thread of the murdered family. Some of Erdrich's novels contain a great deal of humor, even some silly humor, but we do not get an overload of that here, just a bit in passing, though it is very funny when it appears. What we mainly get is a huge cast of Erdrich characters whose lives interact in some way. For example, almost everyone is a descendant of one of the lynch mob members or one of the Indians accused of the crime. Evelina takes on the task of trying to piece it all together: "I traced the blood history of the murders through my classmates and friends until I could draw out elaborate spiderwebs of lines and intersecting circles. I drew in pencil. There were a few people, one of them being Corwin Peace, whose chart was so complicated that I erased parts of it until I wore right through the paper."
It takes a fantastic writer to pull off a narrative of this sort, and Erdrich delivers big time, creating a mosaic whose individual pieces function to magnify the whole and unravel mysteries along the way. The stories are fresh and memorable, giving us all kinds of insight into human nature—the good, the bad, and the ugly—but it's the smooth-flowing luscious prose that carries the narrative. And with the suspense of the family murder to keep us guessing. I couldn't put the book down and was sad when it ended. J.A.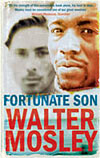 Fortunate Son
by Walter Mosley
Serpent's Tail 2006, reprinted 2008
Because her son, Thomas, was born with a hole in his lung, Branwyn Beerman visits the hospital every day. Without a mother's love, poor Thomas is expected to 'wither', but even with this daily love he is not expected to leave hospital. One evening the young Negro woman is spotted by heart surgeon Dr. Minas Nolan. His wife died giving birth a week after Thomas was born. The baby, Eric, was more than hale and hearty and one nurse had commented that '…it was as if Eric had drained all the life from his mother from the inside…' Nolan offers Branwyn a lift home, then asks her out to eat. Seeing his loneliness she agrees and a relationship develops. On her visits to Nolan's house she is the only person the huge bouncing blond baby Eric shows any attachment to; both father and nanny, Vietnamese Ahn, are powerless. When Branwyn, on Nolan's suggestion, takes Thomas out of the hospital, away from the 'bubble' where the doctors are waiting for him to die, it is obvious that Thomas/Tommy needs a doctor and Eric needs a mother, so Branwyn moves in with the good doctor, though into a separate room. Tommy and Branwyn are the only people who can calm the hyperactive Eric, and in turn they are the only people he deeply loves, becoming a protector to his weak, sickly 'brother'.
Tommy's dad, Elton, had fled at the first whiff of pregnancy, but Branwyn believes that he will return and therefore continually turns down Nolan's offers of marriage. Elton does indeed arrive on the scene, sending ripples through an otherwise idyllic existence and demanding that his son be removed from the white household and take up residence among his black roots. Branwyn has no say, unfortunately, as she suddenly dies of an illness. Her death has a profound effect on the two brothers. Eric, with subtle hints from Ahn, begins to believe that anything he loves, dies. This fear will control his attitude toward future girlfriends and relationships, making him a somewhat distant and uncommitted. As for little Tommy, his world suddenly falls apart. Elton, as father, has a legal right of 'ownership' and quickly whisks him from the Nolan house to a porch in a run-down house in the hood. Bullied at school, Tommy takes to the streets.
The two boys therefore grow up leading very different lives. Eric is a brilliant scholar and sportsman, extremely competitive in all fields. Tommy is distant, in his own world, drifting toward a life of crime. In fact both seem to be leading racially stereotypical lives, and as such the bright white boy just has to be the fortunate son, doesn't he?
If some of the above seems familiar then it possibly is. Michael Moorcock, in his Guardian review of the book, said the plot was 'worthy of a Victorian novel'. But by keeping to this sort of 'known' formula, Mosley is left to concentrate on the telling of the human story, the real meat and potatoes, in his usual wonderful warm, relaxed style, so familiar to Easy Rawlins readers. Oddly, this style of short, simple sentences, with some choice words —the 'wither' used in the second paragraph and the lovely expression 'muckety-mucks' — along with quickly moving events, built the first part of the book into a sort of perfect Disney world. All cosy, warm fires under the soft focus of another era. Lucky Branwyn and Tommy, lucky Dr. Nolan and Eric, see how happy they are. Then, out of the blue, with the first 'mothafucka' and bleeping mobile phone, the reader is suddenly transported to the 21st century.
As pointed out in a previous review, Mosley seems to like the idea of what can best be described as Ying and Yang, with his major characters, although opposites, being dependent on each other; just compare Paris Minton and Fearless Jones and the other duo, Easy Rawlins and Mouse. Fortunate Son, with its blatant black and white theme, would seem to follow suit, but this time the two brothers don't pick'n'mix as easily. Eric is not Mouse, Tommy is not Paris. It is a more complex blend. As too is the Black/White race matter. Silence those alarm bells; Mosley has not turned out some political, simplified tract about how the whites have it made… blah, blah, blah. Sure that enters in, but so does family, fate and love. If anything, it is the latter that serves as the glue binding this most excellent book. That, in its turn, might set off different alarm bells in some sectors but Mosley pulls it off without the schmaltz, delivering one of his finest books, in what, in an ideal world, should become a classic. MGS


Two novels by Rafael Reig:
Blood on the Saddle and A Pretty Face;
translated by Paul Hammond;
Serpent's Tail, 2008
If you're a fan of Steve Aylett's delectably wacky fiction, you'll find his Spanish equivalent in Rafael Reig, who I suspect has read and taken inspiration from him. Reig isn't quite as far out there, but like Aylett he defies classification and inventively transgresses genres. In Blood on the Saddle, we have a detective novel, set in the near future, that embraces the Western while taking digs at the present. It's fun and sassy, and a far cry from the "geeperiods," as Reig calls them, which I'll get to later.
Detective Carlos Clot is an ill-dressed, one-hundred-bucks-a-day private dick with a huge paunch and a hopeless dependency on Loch Lomand, which he keeps in his file cabinet under I for "indispensable." He shares an office with the impeccably dressed Dixie Dickens-Lozano, known as Dix, with whom he shares a secretary with corporate ambitions. The firm is called Dickens & Clot Investigations Ltd and Suzanne Koebnick. "As a rule Dix did adulteries and I took care of missing persons," Clot tells us, while "Suzie-Kay made coffee, handled the typing of reports and occasionally a broom, and looked after the telephone and the visits." Across from their office in downtown Madrid stands the sinister Chopeitia Genomics pyramid, the tallest building in Europe and the best protected in the Northern hemisphere.
The time: sometime after the oil ran out. In Reig's reconstruction of history, the Communist party won the elections in Spain, before Franco died, prompting the US to come set things right, thereby creating an Anglo-Iberian Federation where only English is allowed to be spoken. Transportation is mainly by bicycle, boat (the Castellana was flooded to build a canal), and metro. The Federation has some fierce rules; for example, when Clot and his wife discovered their soon-to-be-born child would have cerebral palsy and made the decision to keep the baby anyway, the Federation removed Clot from the police force, leaving him to fend for himself as a private dick. His marriage fell apart, and like the majority of people living in the Federation, alcohol came to assume a major role in his life.
Clot is currently juggling three cases: one adultery, which fell into his lap instead of Dix's; and two missing persons, one of whom is a fictional character, Mabel Martínez, created by Phil Sparks (real name Luís María Peñuelas), author of the "most widely read Westerns on the metro," whose cowboy hero is one Spunk McCain. Luís has come to Clot in despair; Mabel has simply disappeared off the page and he can't find her anywhere, making it impossible to continue with the most important work of his life: Blood on the Saddle. The other missing person is the daughter of Leonardo Leontieff, Lovaina, a young chick who is most certainly a junkie. As for our adulteress: Al Carvajal, a dull, teetotalling City Hall employee, suspects his wife of two-timing him and has hired Clot to find out.
Clot goes about his business, but people keep turning up dead. And when he flashes the photo of Mabel, he is threatened by the flunkies of Manex Chopeitia, the mysterious head of the Genomics pyramid, though no one has actually seen him. Does he really exist? And what about these green capsules, undoubtedly a product of Genomics, that bring on a horrible death and are used on any junkie trying to go freelance from their dealer? All three of Clot's cases seem tied up in Genomics somehow, but what goes on there exactly?
As Clot relentlessly pursues his work, he takes time to comment on the pathetic wannabe writers who live in his building: "What I called 'home' was two rooms in one of the six garrets of a building on the Calle San Marcos. It was an attic-studio of the kind the Urban Plan had earmarked for unpublished artists-writers. Various generations of luckless hacks had dreamed of glory within those walls. It was noticeable. The indelible stains of so much useless effort were everywhere. The parquet creaked, worn out from supporting the weight of all the vanity . . . It was crummy, yeah, it's true, but the rent was extremely low and I'm not too fussy."
And then there are the literati at the bar Anthracite where Clot goes in hopes of gathering some info. Here we find the "geeperiods": those oh-so-serious and ponderous "literary" writers, who often insisted on using the initial of their first surname—such as Fat G. García—and who looked down on writers like Phil Sparks whose Westerns were nothing more than a "consumer product." The geeperiods formed their own groups: the poeticals, the provincial schools, and the narratives, which were divided into "the partisans of telling a story . . . and the defenders of a more exigent literature." (The latter group to be found en route to the toilet.)
The multi-nationals take a ribbing too. I loved the fact that the evil Chopeitia Genomics had strong ties with Telefónica (Spain's very real telephone monopoly, known for its corruption). Telefónica is suspected of financing an unlawful genetic experiment known as Protocol 47. No one knows exactly what that is, but one of the legends about the all-powerful Chopeitia Genomics is that they are collecting bodies and heads for secret experiments being carried out in the basements of the pyramid. And it will be proved that Telefónica is participating in criminal experiments with human beings (which frankly would come as no surprise to any of us living in Spain as one feels put to some kind of test every time one calls for DSL assistance only to be read a script by someone with a peculiar accent who assures you that either 1. all is fine or 2. whatever is wrong is your fault).
Our narrator also pokes fun at Catalan. The author's last name is Reig, a very Catalan name although he lives in Madrid and was born in Asturias. He does, however, have relatives in the Catalan-speaking city of Valencia. And so we have a character, a Valenciano, "who spoke almost perfect Anglo" in this new world, and who insisted on being called Vic "although his real name was Vincente Puig, Roig, Bosch or something of the sort that sounded like an unexpected slap in the face."
Nothing is scared. The author has one fine rant via Detective Clot, who's really a lovable sod. It's a jolly romp of a plot from beginning to end, short enough to be read in one or two sittings. Very refreshing writing in a country full of geeperiods.
Ruig's second novel in translation, A Pretty Face, picks up from the previous one, though here our narrator is a 36-year-old woman—overweight but with a pretty face—who has just been shot and killed. María Dolores Eguíbar Madrazo (Lola) was just leaving her house when two thugs confronted her, demanded she turn over "the papers," which she did, then plugged her. She's dead, but cognizant of what's going on around her—including her autopsy (which shows she was plugged on a "bad panty" day). She she has company, too: the kid Benito Viruta, child of her imagination, the main character of her books, for Lola was a writer of children's books for "more demanding little readers." Indeed, Benito is not a typical kid-book character. He's a dirty, villainous lad "always with a hard-on and nothing better to do than bash the bishop through the hole in his pocket."
So who killed her and why? She doesn't have a clue. But she and Benito listen in as the experts, including Detective Clot, try to solve the mystery. Although the year is 1999, Spain remains in that reconstructed alternative time, having been incorporated into the Anglo-Iberian Federation. Here the Federation has a slightly different timeline, having been formed in 1981 (rather than before Franco's death in 1975). This way, our narrator, Lola, who was born in 1963 (like the author), can speak of life before the Federation and after. Through another intriguing mystery involving green capsules, genetic tampering and such, we also have a running commentary on what Lola refers to as her "terminal generation": born too late to struggle against Franco, and also slightly too late in time to play a big part in the democratic transition to "full American citizenship." Ruig is having his say about the real "transition" which indeed followed the US as role model though in his dystopia, Spain no longer even exists, having been turned into the Anglo-Iberian Federation where English is now the obligatory language. They were the last generation to know the Spanish language—and oil; and they're now a problem: "a multitude of individuals without roots, without a steady job, without stable relationships, without children and without property." Symbolic of this generation is the very real rock band, Los Secretos, whose lead singer, Enrique Urguijo, died of a drug overdose in 1999.
Lola keeps the plot ticking along by recounting her personal history: daddy was a psychiatrist, working on some dodgy secretive psycho-pharmaceuticals; he leaves the institute, but Lola's ex-husband jumped in and is pursuing the famous neuroprotein K666 for which he hopes to find the secret of life and death and win the Nobel and achieve the ultimate goal of fame. (Meanwhile the poor—mostly drug addicts—live in fear of being used by the genetic engineers.) Lola speaks too of her relationship with one of the mental cases at the institute where her father used to work as well as an ex-boyfriend, Carlos Viloria, a heroin addict who after his death becomes "the critical conscience" of a generation with the publication of this novel, Profound Deafness.
Will Clot solve the murder of who killed Lola, while her ghost hangs by him every step of the way? And how does it tie in with the dubious work of her father and ex-husband? As the reader is looking for answers to these questions, a lot of space is given to Lola's existential ruminations on her terminal generation. At times, the narrative becomes so discursive that one can't help feel the author's voice taking over:
We've been the first generation for whom attaining the same standard of living as our parents was not a real expectation but a wild, almost laughable ambition. We were happy kids with our Nancys and Señorita Pepys make-up cases. They were the years of development plans, the Seat 600 and the miniskirt. In the eighties, on the other hand, we found ourselves with no way forward, caught between industrial and constitutional rationalism and the armour-plated lid on things the grown-ups made. The majority had to go on living in their parents' house, like one more piece of furniture . . . . The funny thing is that with time I ended up being glad [history] had leapfrogged over us. I learnt the value of not being seen: the art of ellipsis. That was our hope: we were lacking in historical clout, that narcissism which makes our grown-ups as well as our little ones so trying. A generational "we" does not exist and this is the closest thing to freedom. We've suffered the capital H of History without ever getting to write it . . . We haven't participated in la movida [cultural wave, principally in Madrid, of late 70s and 80s, following Franco's death, including filmmaker Pedro Almodóvar] or the transition to the US Iberian Federation. Nothing whatsoever, we're no more than people on a one-to-one basis . . . Men and women society has no hold over and therefore with a chance of being free, although at the cost of being nobody.
Hardly what you'd expect in the middle of short, alternative-reality whodunit with sci-fi overtones that is rolling along nicely in its own right with lots of tongue-in-cheek fun, including a poke at the new Spain but without the jarring digression. But so what. This is a fun read and if the author wants to jump in, too, in the guise of Lola and have his rant, fine. These two books only make me want to read more, though I would hope for a better translation as at times the prose is too literal and other times just plain awkward. Still, still and still . . . give me more! J.A.