SFWP

Santa Fe Writers Project


SFWP is an independent press dedicated to the craft of writing. Perhaps because I live abroad, I only discovered them last year when I saw that they were bringing out The Richard Peabody Reader. I ordered Peabody's book and took a shot at two new authors – Steve G. Eoannou and April L. Ford – whose collections looked like something up my alley.
Needless to say, my instincts proved correct as can be seen by the reprints in our current issue. This is an exciting project, an exciting press, and I urge everyone to look at their catalogue and place an order. It is so rare to find an independent press these days, not market-driven like the corporate big guns, but truly dedicated to their work. Here is their mission statement:
SFWP is an independent press dedicated to the craft of writing. We stand by our authors and we stand by our books, embracing new trends and ideas beyond those of the current publishing industry. Our history, and our mission, goes far beyond publishing. At the heart of SFWP, we are a resource for authors. Since 2000, we have hosted an internationally recognized Literary Awards Program. Since 2002, we have maintained an online Literary Journal which provides a home for published and unpublished authors, featuring fiction, creative nonfiction, book reviews, and experimental work. We publish our winning authors, and 90% of our previous Awards Program winners have gone on to publication. All of our titles are distributed by the Independent Publishers Group. Our books are available worldwide, in every format, everywhere books are sold.
The company was founded in 1998 by Andrew Gifford who, as he tells it, one night, at the El Dorado Hotel in Santa Fe, decided to dedicate his life to the preservation of literature. And that is exactly what he is doing.
As for my picks: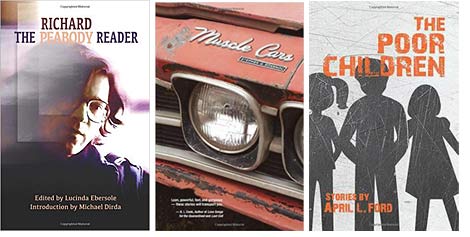 Most everyone in the literary world knows Richard Peabody, who is himself a major figure in independent publishing, as well as the founder of Gargoyle, one of the country's leading literary magazines. In The Richard Peabody Reader you'll find selected poetry and prose of his own throughout the years. Open at random; it's a trove of delightful, witty, thought-provoking writing. You'll also laugh at lot; it's a genuine entertainment in the best sense.

Steve G. Eoannou's Muscle Cars gives us a look at Buffalo life, muscle cars (and muscle men), and is a luscious, lean ride from beginning to end; while April L. Ford's The Poor Children is edgy and dark, with kittens being tortured, pyromania, a kid who thinks he's a werewolf, and a bit of bloody slaughter. It's grim, but darkly comic, too.

These three books are good starters. Go to their catalogue and order what grabs you. You will not only be performing a service to the literary arts but also be rewarded ten-fold. J.A.

SFWP website - http://sfwp.com/


© tbe 2015
The Barcelona Review is a registered non-profit organization