BARCELONA

by Michael Garry Smout
It was never The Barcelona Review's intention to enter the world of tourist information or even to draw too much attention to the city unless, like Sant Jordi (World Book Day), it was literary oriented. The name, like the Paris Review (long situated in New York) or Mississippi Review, came about because this is where we live and where it began. But through much of our e-mail - some from those who mistakenly surfed to the site looking for hard-to-find tourist info, but most from readers and subscribers and even some contributors - we have learned that there is a huge interest in the city, with one of the most frequently asked questions being:
"When is the best time to visit?"

Answer: There is not a bad time to visit.
---
March and April
______

Carnival, Easter, Sant Jordi's and World Book Day
____
Note: Thanks to our planet's movements Easter has this unhappy nomadic life in our calendar. It should be, as we all know, on the first Sunday after the first full moon after the vernal equinox. The poor thing is either early or late, I've never heard "Oooh, fancy that, Easter's on time this year". Anyway, the start of the third millennium sees a particularly late one that is causing all sorts of chaos as it falls on April the 23rd which just so happens to be Sant Jordi's day in Catalunya and which Barcelona and the Catalans fought hard to get decreed World Book Day. Truck loads of books are sold on this day and fears are, apart from the commercialism on a sacred day, that most of the population of Barcelona is out of town, resting in their second homes or whatever, enjoying the first break since January. The UK and Ireland have moved the date, for this year only, to March 10. The Catalans will still hold to the 23rd for World Book Day and for that reason - it is their idea remembe - I will write about it in April and not follow the English lead.
March: The two-week long Carnival is usually in February and just touching March but this year it's pretty much all in March. It's a rather lacklustre affair. Children wander the streets and go to school in costume - teenagers too - but there seems to be little imagination, with a predictable turn-out of witches, vampires and zombies (Halloween is not a dressing-up day). The big Barcelona parade, punningly called Barnaval, is on the last Saturday of the festival and what it lacks in money it makes up for in eager supporters, oblivious, in their skimpy costumes, to the usually cold evening. It's run by the city's markets and, let's be frank here.....Rio, it's not.
Lots of floats, people and energy, but Rio, it's not.
The sex, salsa and costumes of Rio are replaced by children, cheesy pop-techno and hand written placards. There are some good floats and some inventive costumes but one feels that Barcelona is just a bit too far north to really pull it off at this time of year. The story goes that under Franco the thing was banned and since then it has never really got back off the ground. A much better carnival happens down the road at Sitges, so-called gay capital of Europe. Sitges follows true tradition and it has the final parade on "Mardi Gras" (Shrove Tuesday). The town defied Franco and the spirit lives on but it can get pretty deadly and the centre is sealed off to prevent 'glass bottles', weapons and drugs from getting onto the street. If your bottle gets arrested, find a plastic water bottle and the police will fill it from your impounded criminal glass one. Not knowing the police hysteria, I turned up one year with the ashes of a cremated friend in an urn that was due to be flown to the States. Seeing my friend was now an off-white, cocaine-looking powder and the police were checking everything, I had terrible visions of what was about to come down. (Both friend and I made it through the checkpoint, but we got pulled aside and heavily grilled.). The next day - Ash Wednesday - is the burying of the 'sardine', something I had never seen until last year as it is mid-week. The event takes place in Barceloneta and not knowing what to expect I forgot my camera - an error I'm still kicking myself for as it was some of the best street theatre I have ever seen and blew the parade away. This year, with camera in hand, I arrived to find a paultry gathering - no sardines on the grill, no street performers, no fireworks. A total let down.
March is one of those frustrating, fickle months when you think the weather should start to warm up but doesn't. But it's still better than what misery is falling on England and Germany; hence, the lemming rush here to what tourists hope is 'fun in the sun', forgetting that Barcelona is on the same latitude as New York.
Easter: I somehow seem to overlook Easter - out of town relaxing I guess - so details are a little sketchy at the moment and I will add information when it happens. On Good Friday there is what looks like a Ku Klux Klan parade with those in the procession wearing long robes and pointy white or purple hoods. Nothing on the scale of southern Spain, however, as the Catalans are not the world's best Catholics and always get their knuckles rapped by Rome for their lax ways. One Easter Sunday I made the mistake of visiting Montserrat. Beautiful mountain but a long wait for the cable car and seeing the 'Black Madonna' at the cathedral was impossible; in other words - avoid. For Catholics and non-Catholics a very interesting, very weird 'Easterish' place to visit is the Frederic Mares Museum just to the side of Barcelona Cathedral. Hundreds of crucifixes, collected from around Europe and dating from early medieval times on, line the walls with Christ twisted in all manners of agony. They are truly quite bloody and gruesome but seen in this quantity some interesting thoughts arise: nearly all of the Christ figures are wearing some type of head gear, although there are very few with a crown of thorns; and they are all nailed through the hands – as expected – but the one I remember from a previous visit where the nails impale the more logically correct wrists was missing. Call in Scully and Mulder. Luckily there are a multitude of other objects in the three to four floors to take your minds off the suffering that's mainly concentrated on the first floor. Because of the nature and unpredictability of the Easter holidays it is possibly not the ideal time for a heavy museum/art gallery type visit. Easter 2000, with Sant Jordi, has the makings of an oddity and we will be putting up photos and thoughts, with luck, on the day.
April: Aah! Now things start to happen. The canopy of trees down the Ramblas suddenly go leaf crazy, Mr. Sun puts his hat on and comes out to play, and spring is in the air. The 23rd is the day and seems to signal all sorts of things. The patron saint of Catalunya (and England) is Sant Jordi (Saint George) and the 23rd marks his saint's day. It is also, in 1616, the day both Cervantes and Shakespeare shed their mortal coil. Back in the distant 20th Century the Catalans hijacked the Spanish Day of the Book – held in February - and threw the party on this day, adding a spring - and therefore a lover's - touch by including the exchanging of books and roses, the roses having an added fertility symbol of a sprig or two of green wheat. (See photos from 1998's event and 2000). It has got pretty much out of control with everyone from the cat's mother to Uncle Tom Cobbley and all selling books or roses, making the city a slow-moving sprawl of...well..niceness; it is, even with all the commercialism, a nice day. This year the usual 10% off books has been extended for a week and it is no joke when I say that a third, maybe more, of Catalunya's booksales are made on this one day. Exact figures later.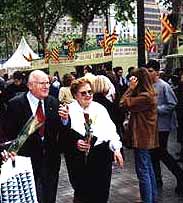 ...this is the true lover's day.
Go with the Catalans on this one, with the sonnets of Shakespeare and the misplaced love of Don Quixote, the worship of books and literature in general plus the first real sun of the year, this is the true lover's day. Let the rutting begin...er...I should also point out that after the success of the Olympic games the Catalans got cocky and pushed UNESCO for this day to become World Book Day and, bless their cotton socks, succeeded. This year's event, as mentioned, is a bit marred by Easter and the fact that the UK and Ireland have decided to hold it on the 10th of March. The UK's emphasis for the day is getting children interested in reading and every UK schoolchild will receive a World Day Book token. There is also a lot of charity fundraising to get books to developing countries: check out www.bookaid.org. And just to round it off the 23rd is The Barcelona Review's anniversary. Anyway, lovers around the world, get up, buy a book and a rose - each—swap and go back to bed to ...um ...read.
The complete history of World Book Day can be found in TBR but in Catalan.
______________________________________________________
Jan. Feb. Mar. Apr. May Jun. Jul. Aug. Sep. Oct. Nov. Dec
________________________________________________________

Other tourist info/links in English: The city itself lacks a committed English site but the Town Hall (Ajuntament) has a useful site at www.bcn.es with a great interactive map (can be a bit slow at times) and a 'What's On' that although in Catalan is more or less understandable, very complete and up-to-date. London's 'Time Out' - www.timeout.com/barcelona/ is the next best stop for very good general and tourist background information plus a limited 'What's On'. Just down the road at Sitges www.playafun.com are finding their feet and on a raid last year to Barcelona managed to snap the only known Internet photo of yours truly... but... thank god, you'll have to hunt for it!