69
You Better Not Cry: Stories for Christmas
by Augusten Burroughs
St. Martin's Press, 2009
Author Burroughs (Running with Scissors) offers up this Christmas-and-gay-themed memoir, written as seven distinct stories told in chronological order. The first three are from the author's childhood, then come young adult tales, moving on to mid-life. Humorous, at times poignant, and wholly delightful.
The title story has Augusten looking back at his seven-year-old self. "It's not that I was an outright nitwit of a child. It's that the things even a nitwit could do with little or no instruction often confused me." His biggest confusion is between Santa and Jesus - which was which? Both figured prominently on Dec. 25th, he knew that. "What I didn't know was why you might see Jesus in front of one house - even a whole barn scene with the wheat and everything - but then the next house might have a sleigh and reindeer and then Santa himself on the roof." He wonders: "Was Santa Jesus's father? That made sense to me except for the confusing matter of the Three Wise Men and Joseph . . . . My understanding was that The Three Wise Men were old men that gave presents. I thought of them like the olden days Santa for Jesus." So it merrily goes. Good descriptions of his pill-popping mother, slurring her words, threatening to always doze off; and his doting grandparents who bring him a life-size Santa, which is where the story really begins.
Another childhood story, "Clause and Effect," begins by bemoaning the worst thing that could ever happen to a kid - in this case, to a student friend, Glen. And that is to be born on the day after Christmas - "a disability more disfiguring than a burn and more terrifying than cancer." He's lucky his birthday is Oct. 23rd, inching up to Halloween, but far enough away from the super boring Thanksgiving. ("Thanksgiving was nothing more than a pilgrim-created obstacle in the way of Christmas; a dead bird in the street that forced a brief detour.")
"Ask Again Later" jumps to the author at age 26. In this story, he wakes up next to a very old Santa ("old enough to be dead of natural causes") in the Waldorf Astoria in New York City, who happens to be French; and due to a drinking binge he has no idea what transpired to land him there. He asks Santa, Did we have sex? hoping to hell he had not. "I slipped it in once and that's all," Santa says, leaving our author is a panic as he makes his way through the holiday season in what builds to one of the most bittersweet satisfying endings you could ever hope to come across.
In "Why Do You Reward Me Thus?" the author rants to a friend about how he hates the "mandatory participation" of Christmas. He's so anti-Christmas that his friend decides he needs some time alone. So, on his own, Augusten rants more about Christmas while he drinks his way through the holidays only to wake up at 3:00am on Christmas morning amongst a group of homeless people near his house; while in "The Best and Only Everything," a more mature Augusten Burroughs relays the lovely story albeit tinged with sorrow, which begins:
"It was our first Christmas as a family. Me, George, and our tiny new virus, AIDS."
Each of the seven stories is marvelously entertaining; there's not a dud in the lot. Lots of good humor throughout, and I mean good humor, the kind that makes you laugh out loud. We can even laugh with the author during his blurry alcohol-fueled days, which in retrospect sound pretty funny though were undoubtedly hellish to live through. But there are some very moving moments as well which the author deftly handles without undue sentiment.
This should be jumping off the bookshelves in gay bookstores about now, but for anyone who appreciates a finely told tale, get thee a copy. Fun to read aloud, too. J.A.

Dot.Conned
by Diana Grove
CreateSpace, Sept. 2009
Ever wonder what would happen if you responded to one of those spams from a Nigerian prince who needed you to help secure his 10-million dollar inheritance? Or any number of other obvious cons? Diana Grove took on every one that came down the chute and led the suckers into a labyrinth of goofiness while stringing them along with hopes that she, too, could be the next mark. Here she records her email correspondence with 11 of these nasty predators, and the result is one hilarious, and ever so satisfying, frolic at their expense.
You have to figure that those who do sincerely reply to these email cons are innocent and vulnerable types, including a fair share of gullible eccentrics. Thus, Grove created 11 wacky responders who set out to snare - or, more accurately, totally derail - the bad guys.
Each of the 11 Chapters begins with a heading which explains the exchange, the "Subject" being Ms. Grove's "vulnerable" persona, who takes the bait. Chapter one begins:
Subject: Svetlana Petrokov
(Former Russian Spy, Job Applicant)
Con Man: Mr. Robert H. Cheng
(Foreign Service Manage for Jiangsu Tianyin Chemical Company)
Attempted Swindle: $2000
Then follows an actual spam email of the type we all receive on almost a daily basis. In case history number one, we have a "Dr. Svetlana Petrokov" responding to the Jiangsu Tianyin Chemical Company who is "searching for reliable persons who can act as a RECEIVING PAYMENTS AGENT who will act as a medium of reach between our customers and us in their area of locality . . . if finally approved as our Representative, you are entitled to an annual income of $24,000 USD and 10% of whatever amount you receive from our customers."
Dr. Sveltana replies that she is interested in the job offer and feels qualified because of her many years of experience with chemical agents, CS gas and weaponized beet paste." She encloses a CV with a history of many equally perplexing achievements - "Also developed hypergolic pencils with C4 exploding erasers," - replete with photos.
Think this will deter the con? Hell, no; they sense they have a live one on the line - gotta be a nut case to reply, right? - and dive in with glee. And so Dr. Petrokov leads her mark on a loony run-around with antics that will leave you belly laughing and shaking your head in awe at how gullible the cons can be.
Other personas include "Fudgey Carmichael," responding to an African heiress, a one-time child movie star who, we are to learn, now dabbles in porno and zombie movies; "Phebus McPhadden" a taxidermist, lottery winner, who in lieu of the "fee payment" to the con, offers to send a stuffed Wooly Pond Warbler (photo included in what looks like a kitten face with duck feet); and "Opus Knight," Albino, Prophet of the Cosmos, who tries to draw his mark into The Church of the Cosmos.
Yes, it's wild fun, thanks to Grove's skewed, hyper-imagination and tricks of Photoshop. It will beg you to want to take up the mantle, which I did. My English lady persona responded to a Dafur heiress, who now calls me "mommy" and sends me pics, so the game is on though I won't get as far without the inventive photoshopping or having friends pose as eccentric subjects. Three big cheers to Grove who went at these muthers with an arsenal of creative ammo filtered through 11 delightfully twisted psyches - just what it takes to out-con the cons.
Don't miss the fun. Contains an intro by Andrei Codrescu. J.A.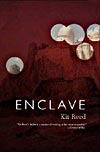 Enclave
by Kit Reed
A Tor Book, 2009
What a fun book to get lost in! Picture this: it is sometime in the near future and the very rich are paying an ex-Marine, Sargent "Sarge" Whitemore, to take their difficult children off their hands. For their own good, Sarge tells the parents. For your own good, the parents tell their children. Yes, the world is fast succumbing to violence and total chaos; the end is near. But for those with enough money, their children can be saved. One hundred of them, anyway, for that's all Sarge will take on his "mission."
How is this to be accomplished? Well, on the secluded Mediterranean island of Mount Clothos, which used to house a group of monks atop the steep, rocky cliffs, inaccessible except by rope and pulley, Sarge has moved in and constructed a school out of the old monastery. A near impossible task, but achieved by the money that he has raked in from parents eager to send him their teenaged brats. The monks have long ago died off from a mysterious plague except for one elderly holdout (he says he's not a monk though all refer to him as such) - Brother Benedictus, who remains to tend the garden.
As for the rest, Sarge has recruited a staff to stay indefinitely on the island, which is sealed from the "dangerous gases" outside by a plastic dome. There is the physician's assistant, Cassie Rivard, a childhood friend who follows Sarge out of love (the sanest of the lot); the drunken doctor, Mel Dratch; Chef Pete, with a history of murder and arson; and a motley crew of teachers and staff, presumably wanting to "check out" of the world for one dubious reason or another. As Sarge says: "I've staffed my Academy with people who need to be where whatever they did can't catch up with them." Of course, they too have bought into the propaganda. As Sarge puts it:
As far as the staff and our charges are concerned, life as we know it is imploding. We need them to believe it, and we need them to believe it's happening soon. This is the story we told to get them here and this is the prediction we have to protect if we expect to keep them here.
Thus, all electronic devices have been taken from the the kids - mobiles, iPods, personal computers, etc. - but the school does provide PCs for the students to network with each other on the island, its one concession to the outside world being a nightly world newscast, which shows war and destruction on all fronts. Of course, unknown to the kids, this is carefully prepared, preprogramed footage; in short, total lies.
The kids are just what you'd expect from the wealthiest parents on earth: Paris Hilton types, only interested in themselves and their position in the hierarchy of the female tribe (Sylvie D'Estart, the reigning queen); and difficult boys, one of whom (Killer Stade) even has a record of murder. A few others got dumped for different reasons: there is a boy who wants to be a female (and thus an embarrassment to his family), and another who is the son of the king, unwanted because of his epilepsy.
Strangely, however, before long the kids begin to lose interest in what mattered to them before. The girls let themselves go, put on weight, and become lethargic. The boys are subdued as well. Is something being put in the food? one of them wonders.
And a further mystery develops: there seems to be a handsome blond guy roaming around the halls at night. A guy who doesn't belong. One night while Sarge is pursuing this character, he leaves his office door unlocked, and what is in his office but the one computer that has a real connection to the outside world. Killer Stade, on the loose in the halls, is a geek extraordinaire with hacker abilities. His main goal is to get internet hook-up so that he can log into World of Warcraft and reconnect with his gang of great players before he gets overtaken by some other geek, but what results from his snooping is something else altogether.
And then yet another big mystery, which unhinges Sarge: our guy who wants to be a girl gets sick, and no one knows why. What exactly is Sarge's motivation for the mission? How will Killer and his roommate, the epileptic prince, resolve a major problem they have inadvertently created? Who is the mysterious figure wandering the halls? Can the sickness be cured? What really is happening in the outside world?
This is great fun. Reed has a keen grasp of adolescent concerns. One doesn't have to have been rich and spoiled to relate to the girl who feels overweight and unattractive. It's part of being a teen, and one of the pleasures in reading the book is being transported back to those giddy days. She also has an ear for teen speak which makes the characters come alive, which begs the reader to care. Who can resist a romp with this crew of misfits in a dystopian universe full of mystery? Settle back and enjoy. J.A.

Love Junkie: A Memoir
by Rachel Resnick
Bloomsbury, 2008 (paperback, 2009)
I was hooked from page one of this stunning memoir and almost missed metro stops so glued was I to the pages. What we have is the forty-something Ms Resnick looking back at her life strewn with bad relationships and leading the reader through the minefield that it was. She concludes she was/is a "love junkie" - addicted to destructive romantic relationships - and only managed to escape through support groups for just this addiction, though even that did not happen overnight. I don't imagine the majority of readers who pick up this book qualify as bona fide love junkies, but anyone who has lived the life - i.e., stayed single, had relationships - will relate. And I mean will relate.
Resnick avoids a chronological telling of her tale, employing instead a shuffle of time sequences which never confuses and works to great effect by creating suspense on multiple levels. There is the running story of her childhood and adolescence, told in a straightforward manner without sentiment, but heartbreaking just the same. Her father leaves when she is only four - and goes on to marry an orthodox Jewish woman whose faith he shares (in his own way) - leaving Rachel, and later a new baby brother, with an alcoholic mother (the original "love junkie"), who drags young Rachel to bars after school where mom picks up men and brings them home. By the seventh grade, Rachel is already living with a friend of the family's because her mother can not take care of her, and her father's current wife does not want her around. Foster homes follow, along with the occasional tense visit with her father where the father/daughter relationship is "blurred." (For her graduation from Yale, her father sends her a postcard of Lolita.) She has grown to be an attractive, busty blond who confuses her father, when he thinks about her at all, and whom the stepmother regards as some kind of lurking Jezebel.
Then comes the move to L.A. and a series of relationships with men that will form a pattern: strong physical attraction, hot sex, men who won't commit but love to deride and manipulate, while our girl clings, writes long and passionate emails, and sacrifices all to make it work. The worst of these she saves for last, and indeed it was the last of the seriously damaging hook-ups, an affair that lasted over several years in which she is asked to cross one sexual barrier after another all because her man expects it of her. She's freewheeling and game, she tells herself, but her partner's demands are not anything she's comfortable with. Trips to Thailand and Morocco push the barrier even further while Resnick herself yearns for the simple pleasure of having a child.
How will the relationship with her family work out? What will happen to her brother whom Rachel tries to help by bringing to L.A., only to discover he is damaged in his own way? How does she cope with the soul-destroying relationships she finds herself in? What circuitous (and unexpected) routes are taken to escape the cycle? Will she have the child she so dearly wants?
I hesitate to say more as I would like the reader to approach this startlingly honest memoir as fresh as I did. I will say it contains a fair amount of sex, some good some bad - which no one could accuse of being gratuitous so integral is it to the story - so this is a rich and juicy book (what addiction doesn't have its highs?), but it is also intelligent and insightful and not the least bit romanticized. The author bares herself, never hesitating to reveal the personal insecurities and painful little humiliations that are par for the course in the life of a love junkie - or in the life of the single woman who engages in relationships, because I do think this book speaks to all females, and has something to say to men as well. It takes that Mars/Venus pop psychology to a new level, but one thing it clearly, if inadvertently, puts across: men and women are different, and apart from speaking about an addiction to love, it throws up a mirror to many of those essential differences.
I admire the deft work that went into the book's structuring, what with the time shifts; I admire the sharp prose and the clear, strong voice which rings ever so true. One last thing, which may not have been mentioned about this book: the author in her line of work has rubbed elbows, if not more, with many L.A. celebrities. How easy to drop some of those names along the way. But she never does. We stay focused on what matters. And this book matters. J.A.
See Rachel Resnick' s The Meat-Eaters of Marrakesh from TBR 17

Roads Ahead, stories,
edited by Catherine O'Flynn:
Tindal Street Press, UK
Catherine O'Flynn has gathered 22 stories in an anthology to celebrate Tindal Street Press's 10th Anniversary Collection. It's a "ten p mix-up," as she calls it, referring to her childhood days at her dad's sweet shop where this was a typical request, leaving the shop owner to throw together a nice, wee mix. Novelist O'Flynn – author of the award-winning What Was Lost - has done her mixing well. This is a diverse and entertaining collection of stories, taking the reader from one side of the Atlantic to the other, from stark realism to the surreal, with all sorts of goodies in between.
Kathryn Simmonds' "The Chest" deals with a young English woman who finds a discarded chest along the road and ends up in a tussle with another woman over who's going to keep it; while David Savill's "Table Rock Lake" follows an American soldier looking for the truth behind his lover's tainted tour of duty in Iraq; and Iain Grant's "Six of the Best" traces a thug of a moneylender collecting debts in inner-city Birmingham where he unexpectedly runs into an old school teacher who will prove his match.
"Sea Life" by Keelie Walker takes us to an aquatic park in Blackpool on the eve of the millennium where a shark is due to give birth under the watch of one who prefers the shark to the company of humans; while Megan Dunn's "The Mermaid and the Music Box" jumps to a futuristic setting in New York where a Donald Trump-type character entertains Dream Girls in the penthouse where he also keeps a feisty mermaid.
Elsewhere we witness the treacherous ups and downs of young-girl friendships; a Nigerian mother pleading with the military to save her allegedly terrorist son; and a young girl's attempts to break up with her boyfriend (until she no longer wants to); while down in Buenos Aires an English bloke stays high on coke trying to forget the break-up with his girlfriend.
There is so much on offer in this anthology, you really get a good bang for your buck. For lovers of short fiction, this ten p mix-up is sure to delight. J.A.
See
Kathryn Simmonds' The Chest
in this issue of TBR